The resident Dream Team Gaming FIFA-coach Fully is back this week to help you take your game to the next level.
If you haven't had a chance to check out Fully's other tips, you can read up on them below:
Having covered both the secrets of a good attack and good defence – here are five simple tips that will help you to instantly improve your win ratio.
1 Manage the game
You have to understand that there are certain moments in a game that can feel out of your control.
You have to know when these periods are.
There are times you feel in control and then times where the games completely end to end – you attack, your opponent attacks, you attack etc.
When this happens, no one wants to be the person to slow the game down.
You think that you'll be the one to score but often you're the one who concedes. Don't fall into that trap.
Slow it down, play your own game and don't rush it.
2 Skill games
Skill games are perfect ways to practice shooting.
There are many different ways of shooting – finesse, power shots, low driven, volleys, headers etc.
Timing these green is important but the timing is different for each of them.
You need to practice these until your muscle memory is perfect.
You don't want to practice these in matches because timing these shots wrong, even slightly can cost you a game.
3 Set pieces
Set pieces can play out dangerously, so you want to make the most of every opportunity.
With free kicks, for example, don't bother shooting direct as the chances of scoring are so low.
Instead, press L1/LB and L2/LT to put 3 players around the ball – you can run these players over the ball and pass to them as they're running.
Usually, you would run the first player over the ball as a decoy, run the second player over the ball and then pass it to that player.
To have them run over the ball, simply do a fake shot (B+A or Circle + X). Then aim at the player and pass.
4 Watch your games back
This is probably the best way to improve your game.
No one wants to do it but it really takes your game to a new level.
You need to look at chances you missed and the goals you conceded – then think about what you could have done differently.
Look for what you did wrong and how you can correct it.
This could be you over-committing with a defender and leaving space in behind, or even not moving the goalkeeper when you could have.
5 Set up your game plans
This is a new feature in FIFA 19 where you can have a number of different formations and tactics set up before a game – balancing defensive and attacking tactics etc.
Switch it up in-game if you're struggling.
Also, look at the dynamic tactics. If you're playing someone who is pressing high, try the long ball tactic to get your players up the pitch quicker.
This is the level of detail you need to have and also separates pro-players from casual players.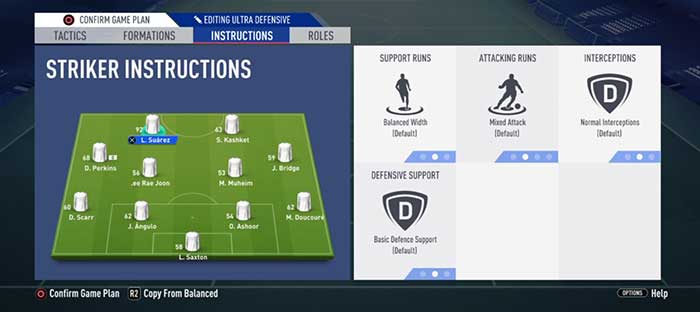 Fully will be back again next week to provide more top tips on FIFA 19.
---
Be sure to follow Fully on Twitter and tune in next Monday for more tips from a pro
---