The volcano is going to erupt!
We now have confirmation that the latest sight in Fortnite's battle royale map is finally going to do something other than hurt you when you step on it.
Thanks to the recent patch notes, it has been revealed that Volcano eruption sound files have been added to the game.
It looks as though we could finally be seeing the first large-scale Fortnite event that will affect the upcoming Fortnite season.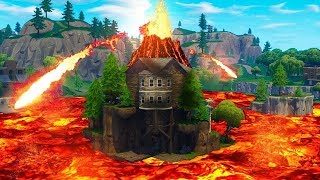 ---
Follow our Instagram page, DreamTeam.Gaming for up-to-date news and memes
---
How will this explosion affect the map?
Good question.
Well, the eruption could be so huge that the entire map is destroyed – ultimately forcing EPIC Games to bring out a brand new map.
This, however, is unlikely considering the amount of time and effort that has gone into the creation and story behind the current Fortnite map.
The more likely outcome is that the eruption will damage certain areas of the map, causing potential earthquakes that split the island creating new points of interest.
---
If you are keen to read everything there is to know about Fortnite Season 9 click here
---